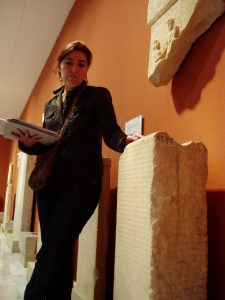 Donatella received her MA in Classics from the University of Pisa and in 2001 she earned her PhD in Ancient History from the University of Rome Tor Vergata. Between 2002 and 2008 she held post-doc fellowships at the Scuola Normale Superiore, where she conducted teaching and research activities in the field of Greek history and epigraphy.
In 2008 she joined the former "Laboratorio di Storia, Archeologia e Topografia del mondo antico", directed by Carmine Ampolo, and she is currently a staff member of the SAET, where, among other duties, she contributes to research and teaching in Greek epigraphy and fragmentary historiography.
She took part in many international conferences and workshops in Italy and abroad, was invited to give lectures in several Italian universities, and participated in archaeological excavations, in particular at Segesta, in Western Sicily. She is a member of the advisory board of the research project "I Frammenti degli Storici Greci".
Her research interests include Greek fragmentary historiography (in particular Athenian and Western Greek historiography); economic history of the Greek world in its legal and institutional aspects; Greek epigraphy, and more broadly Greek documentary sources; history of scholarship in Classics; Classical archaeology.
Her most relevant publications are: Cratero il Macedone. Testimonianze e frammenti, Tivoli 2002; with A. Magnetto and C. Carusi (eds.), Nuove ricerche sulla legge granaria ateniese del 374/3 a.C., Pisa 2010; G. De Sanctis, Pericle, new edition and introduction by D. Erdas, Tivoli 2011.