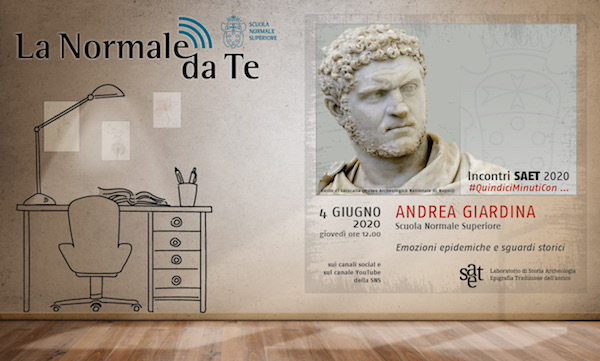 On Thursday June 4th at 12 p.m. a 15 minutes talk by Andrea Giardina (Scuola Normale Superiore) on Emozioni epidemiche e sguardi storici.
The online event, organized by SAET within the Outreach initiatives promoted by Scuola Normale Superiore.
Abstract Il focus su 'epidemie' descritte da autori classici e in romanzi storici che ne hanno evidenziato le conseguenti, profonde crisi economiche e sociali, si concentra sulla crisi dell'Impero Romano determinata nel III secolo d.C. proprio da una epidemia scoppiata in accampamenti militari. La riflessione sulle modalità di reazione dello Stato che riuscì, nonostante tutto, ad assicurare altri secoli di vita all'Impero d'Oriente e d'Occidente mette in evidenza l'importanza di valori universali che la Storia trasmette: come il senso di integrazione e di appartenenza incarnato da Sovrani reclutati da zone di frontiera. Non aristocratici, ma 'uomini nuovi', imperatori-soldati che combatterono e morirono per l'Impero, salvandolo: come Caracalla, Claudio II il Gotico, Aureliano, Probo, fino al grande riformatore Diocleziano, il 'Dalmata Fatale'.