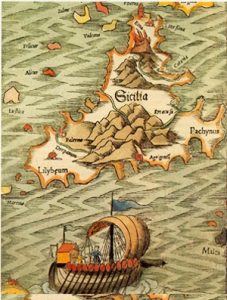 The Maps Repository, an indispensable tool for archaeological and topographic research at the SAET, is focused on the traditional interest in Sicily and Magna Graecia cultivated by the Scuola Normale Superiore.
The SAET Maps Repository's main feature is a collection of topographic 1:25,000-scaled maps from the Italian Military Geographic Institute (I.G.M.). Their scope is to provide cartographic documentation for the Bibliografia Topografica della Colonizzazione Greca in Italia e nelle Isole tirreniche (BTCGI) – an encyclopaedic work in 21 volumes realised in a joint project between the Scuola Normale Superiore, the École Française de Rome and the Centre J. Bérard in Naples.
The Maps Repository is composed by the extensive documentation provided by historical cartography (1:50,000-scaled) on those areas of Sicily and Magna Graecia where the research group has carried out survey activities. Data processing for the production of thematic maps constitutes the main interest of the SAET, and sums up the variety of skills needed to figure out models and paradigms of inhabitation of a territory during the course of centuries. The SAET also owns a digitised collection of about 2000 ancient maps, including prints, engravings, manuscript drawings and military plants, imago urbis and geographic allegories produced in Sicily between the Middle Ages and the late Renaissance. An analogous collection of artistic and cartographic sources on ancient Calabria and on Elba island is included in the corpus, together with the mapping sections devoted to the 'history of cartography' at the SAET Library.
The digital contents of the SAET Maps Repository are copyrighted; they can be requested for study and research purposes only.