Seminar date: October 12th 2021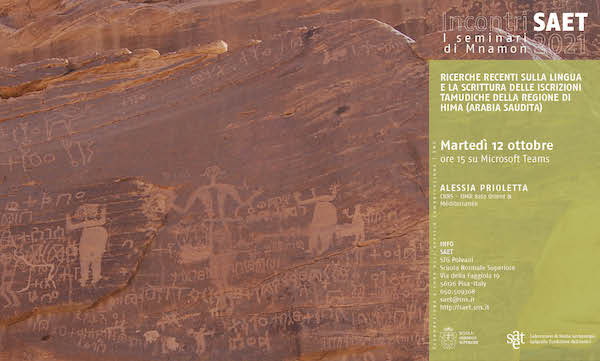 On Tuesday October 12th starting from 3 p.m. the following Mnamon seminar will be held online:
Alessia Prioletta (CNRS – UMR 8167 Orient & Méditerranée)
Ricerche recenti sulla lingua e la scrittura delle iscrizioni tamudiche della regione di Ḥimā (Arabia saudita)
Abstract Ḥimā indica il nome di un villaggio e, per estensione, del suo territorio circostante, situati a circa 100 km a nord-est di Najrān. Si tratta di un'area desertica percorsa da una vasta catena montuosa, che confina con le regioni sedentarie dell'Arabia meridionale e si trova ai margini del vasto deserto arabo che si estende fino alla Mesopotamia e al Levante.
Grazie alla sua posizione strategica nelle rotte commerciali transarabiche e alla natura geologica dei massi di arenaria, particolarmente adatti all'incisione, questa zona è incredibilmente ricca di graffiti e disegni rupestri, che si possono stimare in diverse decine di migliaia. Nell'area sono disseminati anche un gran numero di strutture funerarie e archeologiche. L'unicità di questo paesaggio e la sua importanza storica e culturale hanno valso, nel 2021, l'iscrizione del sito nella Lista del Patrimonio Mondiale dell'UNESCO.
La Missione archeologica ed epigrafica franco-saudita di Najrān (MAFSN) conduce prospezioni e scavi nella regione di Ḥimā dal 2009, sulla base di un un accordo di cooperazione firmato con la Commissione saudita per il Patrimonio. Ad oggi, circa 15.000 graffiti sono stati scoperti e registrati nel database della missione. Il tema del seminario riguarda in particolare le iscrizioni incise in grafia tamudica (o himaitica), un tipo di scrittura nordarabica utilizzata dalle genti nomadi che circolavano nella regione. Alessia Prioletta presenterà i progressi ottenuti nel deciframento e nella comprensione di questi graffiti, di cui poco o nulla si conosceva fino ad anni recenti.
---
Mnamon seminars videos on demand are available on the Mnamon portal or a playlist in the SNS YouTube channel at the address:
Mnamon seminars playlist