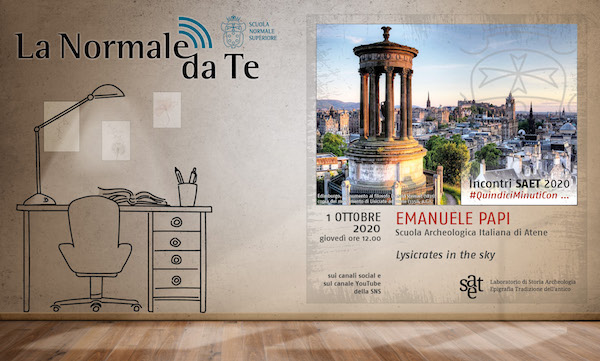 On Thursday October 1st at 12 p.m. a 15 minutes talk will be held by Emanuele Papi (Scuola Archeologica Italiana di Atene) on Lysicrates in the Sky.
The online event, organized by SAET within the Outreach initiatives promoted by Scuola Normale, will be broadcasted on the SNS social media channels and the video on demand will be available in the SAET YouTube playlist.
Abstract Fino al XIX secolo le antichità classiche sono state fonte di imitazione: «il contrario del pensiero indipendente è la copia, non l'imitazione», aveva teorizzato J. J. Winckelmann. Il seminario non tratterà il 'contagio greco' e l'imitazione sentimentale dell'Ellade ma la duplicazione in formato facsimile delle architetture greche attraverso uno dei più celebri monumenti di Atene: il monumento di Lisicrate, costruito nel 335/4 a-C. Nel 1762, la pubblicazione dei volumi The Antiquities of Athens di James Stuart e Nicholas Revett fece conoscere al mondo gli edifici di Atene con oltre 300 rilievi e disegni dettagliati. Da allora in poi fu possibile 'clonare' i più insigni monumenti di Atene nei più lontani luoghi del mondo: il Partenone, i Propilei, la Torre dei Venti etc. La storia dei facsimili del monumento di Lisicrate inizia nel 1801 quando fu riprodotto in terracotta per l'Exposition des produits de l'industrie française del Louvre e da allora in poi è stato replicato in decine di copie in Europa, America e Australia, segnando ancora lo skyline di molte città, in cima a chiese, edifici civili e grattacieli.