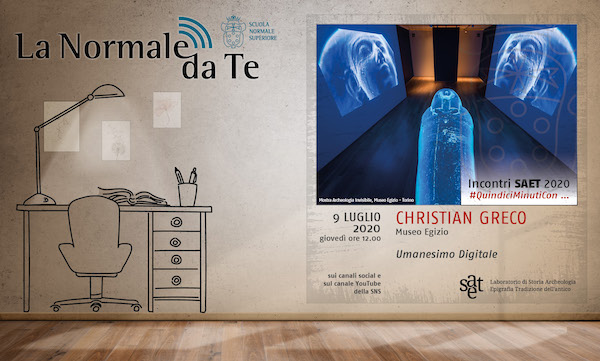 On Thursday July 9th at 12 p.m. a 15 minutes talk by Christian Greco, Director of Museo Egizio, on Umanesimo digitale.
The online event, organized by SAET within the Outreach initiatives promoted by Scuola Normale Superiore, will be broadcasted on the SNS and SAET social media channels and the video on demand will be published in the SAET YouTube playlist.
Abstract Oggi ci troviamo immersi nella cosiddetta rivoluzione digitale che ha già profondamente trasformato il nostro approccio cognitivo: in ambito archeologico la fotogrammetria e la modellazione 3d ci mettono in grado di documentare l'intero processo di scavo, la diagnostica per immagini, non invasiva, ci permette di scrutare all'interno di un vaso ancora sigillato e di sbendare virtualmente le mummie. Significa perciò che il ruolo dell'umanista sta diventando subalterno? E in questo contesto quale sarà il ruolo del museo?