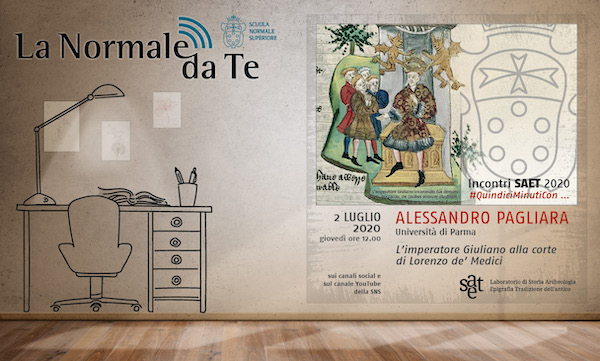 On Thursday July 2nd at 12 p.m. a 15 minutes talk by Alessandro Pagliara (University of Parma) on "L'imperatore Giuliano alla corte di Lorenzo de' Medici".
The online event, organized by SAET within the Outreach initiatives promoted by Scuola Normale Superiore, will be broadcasted on the SNS and SAET social media channels and the video on demand will be published in the SAET YouTube playlist.
Abstract Pur se Giuliano è morto, vive però la Verità, più forte di molte bocche menzognere»: così Libanio scriveva a Temistio in una lettera di qualche mese successiva alla morte in Persia di Flavio Claudio Giuliano il 26 giugno 363. E, invece, la memoria dell'imperatore sconfitto aveva grande bisogno d'essere difesa. Germinando dalla gogna a cui gli autori cristiani (e in particolare l'infuocata oratoria di Gregorio di Nazianzo) esposero il ricordo del defunto augusto, la leggenda di Giuliano giunse col tempo a soppiantarne l'immagine storica e progressivamente attribuì «all'austero difensore dell'Ellenismo le sembianze di dannato, di malvagio, di mago capace delle più orribili crudeltà, di primo rappresentante del satanismo, che induce gli uomini a rinnegare Gesù e a vendere la loro anima al diavolo» (così Joseph Bidez, il più illustre tra i biografi di Giuliano tra fine XIX e prima metà del XX sec). La Firenze di Cosimo il Vecchio, con la diffusione del platonismo, aveva segnato soprattutto il ritorno del Giuliano filosofo. La generazione del Magnifico avrebbe aperto la strada al recupero anche della figura storica di Giuliano, di cui nella laurenziana Rappresentazione dei Santi Giovanni e Paolo (risalente al 1491) pare potersi cogliere un primo accenno: ma tale 'riabilitazione' di Giuliano (almeno per quanto attiene ai testi) troverà compimento al di fuori d'Italia, particolarmente in Francia, solo tra l'epoca delle guerre di religione e la prima età barocca.