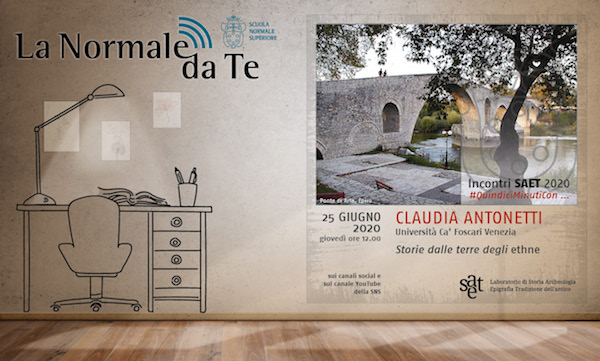 On Thursday June 25th at 12 p.m. a 15 minutes talk by Claudia Antonetti (University Ca' Foscari, Venice) on "Storie dalle terre degli ethne".
The online event, organized by SAET within the Outreach initiatives promoted by Scuola Normale Superiore, will be broadcasted on the SNS and SAET social media channels and the video on demand will be published in the SAET YouTube playlist.
Abstract Le terre degli ethne evocano una realtà molto diffusa nel mondo greco antico, quella delle comunità che vivevano secondo canoni socio-culturali e politici alternativi al sistema della polis o complementari ad essa. Geograficamente parlando, la definizione comprende ampie regioni del Peloponneso e la maggior parte della Grecia centrale e settentrionale; politicamente parlando, gli stati federali del mondo greco. Claudia Antonetti, che ha viaggiato e vissuto  nella terra degli ethne – la cosiddetta «Grecia Terza» (H.-J. Gehrke) – racconterà la sua esperienza, focalizzando l'attenzione sulla Grecia occidentale, sul topos antico e moderno di 'inciviltà' coagulatosi intorno alla grecità periferica, sul ruolo aggregante dei grandi santuari federali e il senso di identità costruito attraverso un modo nuovo di rappresentazione: la personificazione geografica e la simbologia iconografica.