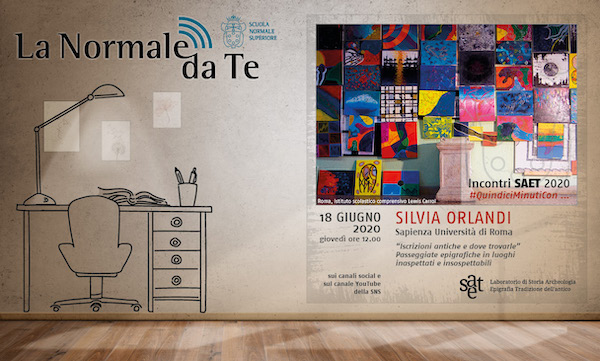 On Thursday June 18th at 12 p.m. a 15 minutes talk by Silvia Orlandi (Sapienza Università di Roma) on "Iscrizioni antiche e dove trovarle": passeggiate epigrafiche in luoghi inaspettati e insospettabili.
The online event, organized by SAET within the Outreach initiatives promoted by Scuola Normale Superiore, will be broadcasted on the SNS and SAET social media channels and the video on demand will be published in the SAET YouTube playlist.
Abstract La maggior parte del nostro patrimonio epigrafico si conserva, come è naturale che sia, in musei e aree archeologiche, oppure si trova esposto o reimpiegato in chiese e palazzi storici. Ma alcune iscrizioni, certamente più di quelle che uno si potrebbe aspettare, si trovano in luoghi tradizionalmente (o teoricamente) non preposti alla conservazione di reperti archeologici: fermate dell'autobus e della metropolitana, bar, pizzerie, ristoranti, alberghi, cinema, teatri, scuole, ospedali, caserme… E anche un non-luogo come lo spazio del world wide web conserva memoria della presenza di iscrizioni antiche e della loro dispersione. Una passeggiata virtuale alla scoperta di piccole collezioni epigrafiche al di fuori dei consueti itinerari museali rivela quanto anche un luogo di conservazione inaspettato e insospettabile possa raccontarci di un'epigrafe, delle sue vicende e del suo valore come documento storico.