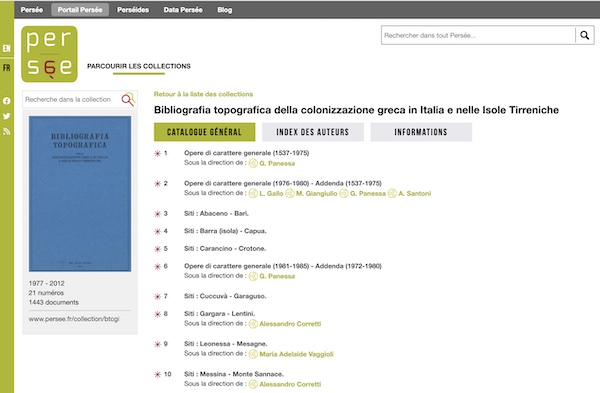 The Bibliografia Topografica della Colonizzazione Greca in Italia e nelle isole tirreniche (known as BTCGI)has been just put online on the Persée portal
The work, conceived by Giuseppe Nenci and Georges Vallet in the 1970s, was part of the still lively debate on the complex phenomenon known in historiography as "Greek colonization," especially with regard to mainland and insular Italy, and was part of a research project that brought together the Scuola Normale Superiore, the École française de Rome and the Jean Bérard Center in Naples.
The goal of the BTCGI was to provide researchers with a rich, organic and reliable documentation from which to start scientific investigations and new researches.
Thus the 21-volume work was published starting from 1977 till 2012.
Five volumes are devoted exclusively to bibliographical updates (I, 1977; II, 1981; VI, 1987; XI, 1992; XV, 1999), in order to follow and document the evolution of the scholarly debate around the very nature of the colonial movement, its definition and its unfolding over time.
The remaining sixteen volumes contain 1333 entries, written by 324 authors and arranged alphabetically. Each entry refers to a site (existing, disappeared, or present in ancient sources but not located) involved in various ways in the "colonial" phenomenon, and offers a systematic collection of literary, epigraphic, and numismatic sources, an overview of the state of archaeological knowledge, and finally a bibliography that also takes into account antiquarian literature.
The result is a very useful and trustworthy tool, which has been used for years in paper format and is now even more accessible to researchers thanks to its online availability on the Persée portal.