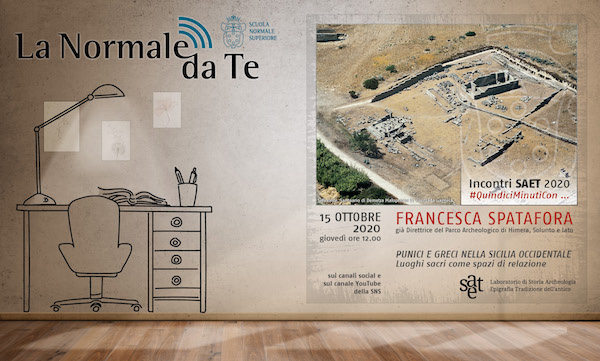 On Thursday October 15th at 12 p.m. a 15 minutes talk will be held by Francesca Spatafora (former Director of Parco Archeologico di Himera, Solunto e Iato) on Punici e Greci nella Sicilia Occidentale. Luoghi sacri come spazi di relazione.
The online event, organized by SAET within the Outreach initiatives promoted by Scuola Normale, will be broadcasted on the SNS social media channels and the video on demand will be available in the SAET YouTube playlist.
Abstract Le nuove fondazioni fenicie e greche, in particolare nella Sicilia occidentale già abitata da Elimi e Sicani, contribuirono a creare nuovi spazi di negoziazione in cui si svilupparono quelle relazioni interculturali che è oggi possibile delineare, non solo sulla base della documentazione letteraria ma anche attraverso un registro archeologico che si va man mano accrescendo e che offre numerosi spunti di interpretazione anche di contesti da tempo noti.
E' possibile infatti riconoscere in alcuni luoghi della Sicilia occidentale, principalmente luoghi dedicati al culto, gli spazi privilegiati per leggere quella trama di relazioni che caratterizzò soprattutto i secoli dell'arcaismo: Mozia, Selinunte, Erice e Himera sono tra i siti che, nella Sicilia occidentale, hanno restituito le evidenze più significative.