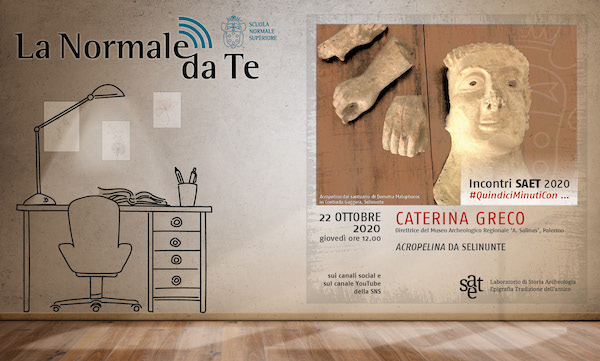 On Thursday October 22nd at 12 p.m.  a 15 minutes talk will be held by Caterina Greco (Director of Museo Archeologico Regionale "A. Salinas") on 'Acropelina' da Selinunte.
The online event, organized by SAET within the Outreach initiatives promoted by Scuola Normale, will be broadcasted on the SNS social media channels and the video on demand will be available in the SAET YouTube playlist.
Abstract Anche in un museo si possono fare scoperte archeologiche, tra i reperti esposti senza ordine apparente dentro una vetrina. È il caso di alcune terracotte provenienti dal santuario di Demetra Malophoros a Selinunte, alcune mani e un mascherone femminile a grandezza naturale , che appartengono a delle statue "acrolitiche" riferibili a una coppia di divinità femminili. La testa, in particolare, fu rinvenuta nel 1889 durante gli scavi effettuali da Salinas e dal Patricolo, contenuta in una deposizione delimitata da tegole poco a nord del grande altare del santuario. La nuova evidenza aggiunge significativi elementi di lettura circa i culti tributati nel santuario, con la possibilità di istituire confronti con altri luoghi demetriaci siciliani, tra i quali il thesmophorion di Morgantina.